Room - Color
Articles in section
Color Room Hotkeys
General
SHIFT+D - Grade Bypass (Disable). Disable all nodes to see the original image;
CTRL+D - Grade Bypass (Disable) on current node;
SHIFT+H - see node mask, or qualifier mask etc. in monitor windows;
CTRL+F - See preview window in Full screen.
Create nodes
ALT+S - New Corrector (Serial) AFTER selected node;
SHIFT+S - New Corrector (Serial) BEFORE selected node;
ALT+L - Add Layer lower than current node;
ALT+O - New Outside node (Includes everything NOT selected in previous node)
ALT+P - New Parallel node.
Tracker
CTRL+T - Track mask forward;
ALT+T - Track mask backward.
Versions
CTRL+Y - add new color grade version;
CTRL+N - switch to next version;
CTRL+B - switch to previous version.
PowerGrades
Create a PowerGrade folder to store color grading across all projects.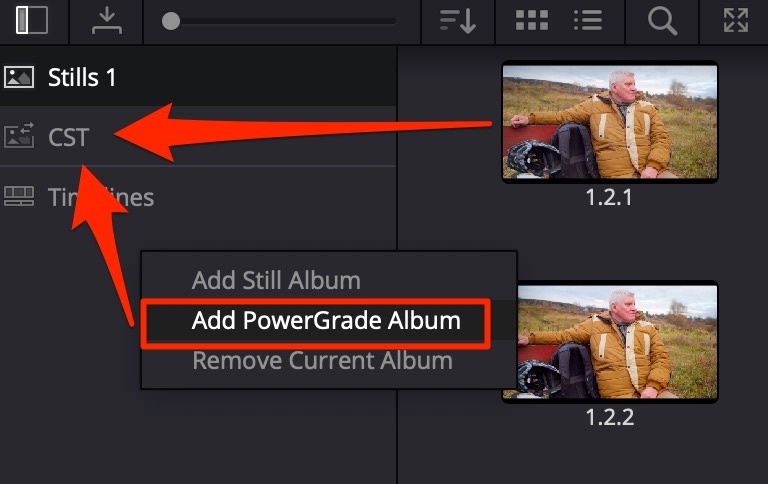 Captured stills can be put into this folder → go into the DaVinci Database and are shared across all projects. A convenient way to store ready-made Color Space Transforms for different camera colorspace/gamma types. Use Append Node Graph to apply the grade, do NOT use Apply Grade since this changes the original ISO of the footage,  which may differ in the specific scene.
Tracker
Cloud tracker - tracks using a whole mask with all its' points.
Point tracker - needs control points on contrast areas, which it uses to track.
Stills
Right-click on footage → Grab Still: this saves the footage with currently applied grade. After any changes to the image, you can find the still in Gallery, and:
double-click on still to make a A|B compare picture. CTRL+W to see changes on full screen (disable still);
right-click → Apply Grade to apply to what was saved. Stills can be applied to any footage to copy correction or try interesting results.